Conference Hotel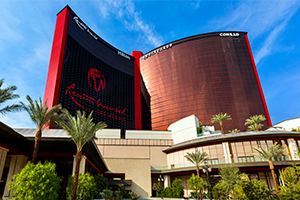 Resorts World Las Vegas
3000 South Las Vegas Blvd., Las Vegas, NV 89109
---
The deadline for group reservations has passed. Please contact Katie Kirchner (kjkirchner4@gmail.com) for assistance with booking a room.
Hotel Cancellations
Property allows individual attendee cancellations without penalty up to seventy-two (72) hours prior to the attendee's scheduled arrival date. Property will charge the individual attendee one (1) night's guestroom rate plus tax for cancellations within seventy-two (72) hours of the scheduled arrival date or failure of the individual attendee to check-in on the scheduled arrival date (each a "no-show"). Any remaining nights of a no-show reservation will be canceled without additional penalty.
Check In/Check Out
The Hotel's check-in time is 3:00 p.m., and check-out time is 12:00 p.m. (subject to change without notice). All guests arriving before check-in time will be accommodated as rooms become available. The Hotel can arrange to check baggage for those arriving early when rooms are unavailable and for guests attending functions on departure day.
Early Departure Fee
If a guest who has requested a room within the Room Block checks out prior to the guest's reserved checkout date, the Hotel will add an early checkout fee to that guest's individual account (currently, $75.00). Guests wishing to avoid an early checkout fee should advise the Hotel at or before check-in of any change in planned length of stay.